Jan 25 When it comes to coffee, I can be rather fanatic about what reaches my cup. I trace the origins of the ground coffee I buy online, check out the flavour notes and its processing methods. I have rhapsodised over coffee with blueberry notes from Indonesia and the nutty flavours of South Ameican coffee to friends and family who do not my obsession. Along the way, I have discovered some beautiful single-origins from India, with equally delicate flavour profiles.
So, I was thrilled when Araku Coffee, a single-estate gourmet coffee brand, grown and managed by tribal farmers in Andhra Pradesh, won the 'The Best Coffee Pod' gold at the Prix Epicures O R 2018 Award in Paris. It was a success like no other—in the land of hardcore coffee drinkers, coffee grown by Adivasi farmers had emerged as the top dog in the artisanal coffee game.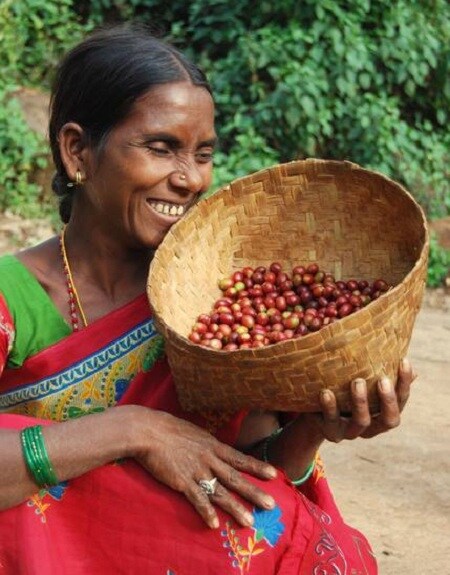 A tribal with coffee beans
Much like Araku Coffee, a bunch of innovative plantations and roasters are cranking out some of the finest coffee beans, blends and roasts. There is sheer obsession in the way they nurture the delicate Arabica beans; they process and roast them using the most advanced methods; and blend them to create notes as fine as wine (did you know that a coffee can have up to 1,250 flavour notes, as compared to 450 in a fine wine?).
Araku Coffee's Rise to Parisian Glory
This unusual coffee brand launched in Paris in 2017, to only rise rapidly to the list of much-desired coffees in the city's cafes. Last week, Araku launched the coffees in India.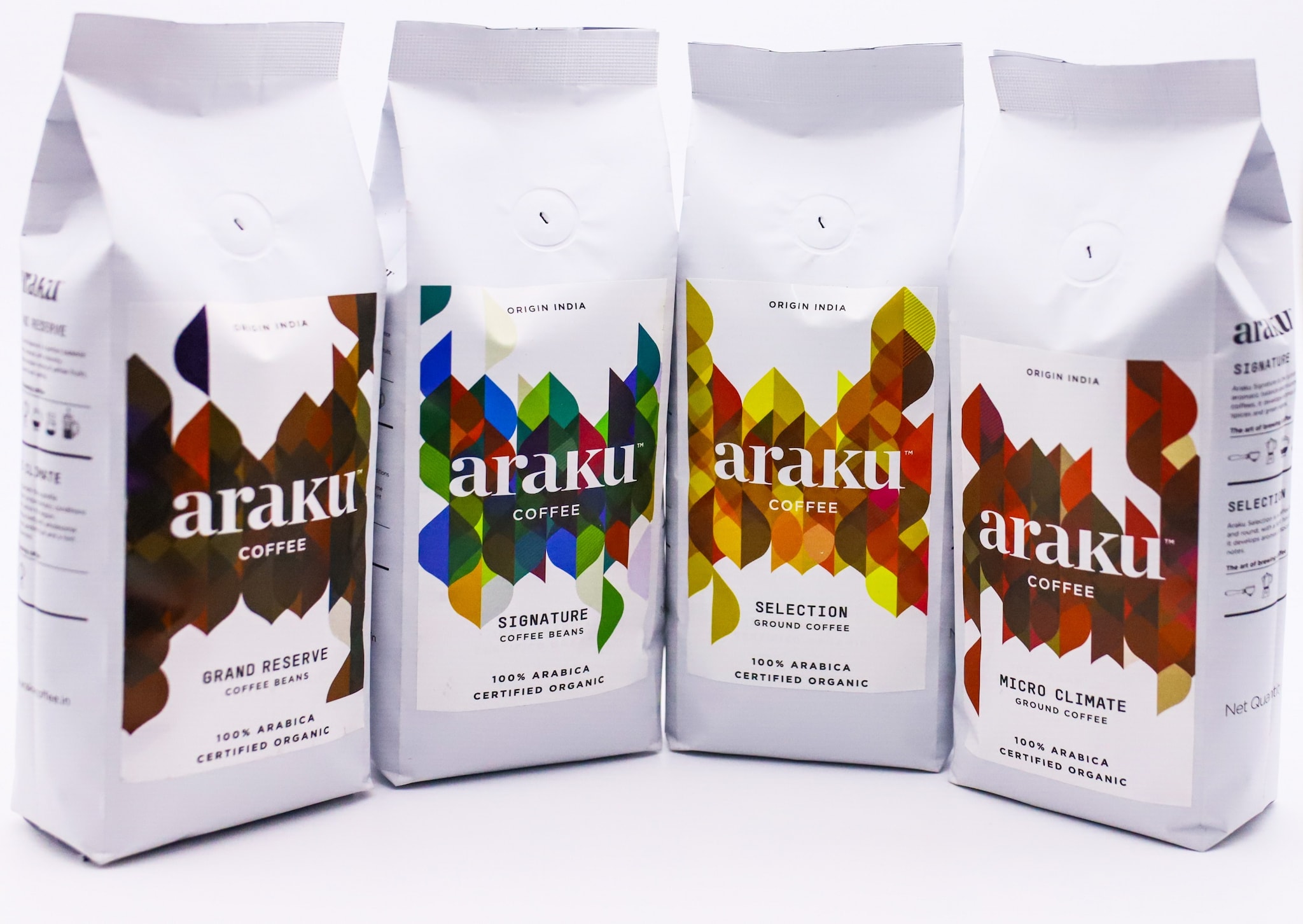 Araku coffees
The history of coffee in the Araku Valley dates back to 1920 when British revenue officers recognised the potential of the region in Eastern Ghats mountain range and established sprawling coffee plantations. While cultivation continued after Independence, development eluded the region, till the Integrated Tribal Development Agencies took over the promotion and management from the Coffee Board in 1995. However, it was Naandi Foundation, spearheaded by former banker Manoj Kumar—and with industrialists such as Anand Mahindra, Kris Gopalakrishnan, Satish Reddy and Rajendra Prasad Maganti on the Board of Directors—that proved to be a game changer.
Kumar says, "There was the need to educate the people of Araku about best practices, ideal farming methods, meticulous harvesting and processing techniques, how to book-keep and manage a business," says Kumar.
Naandi nudged the farmers to form The Small & Marginal Tribal Farmers Mutually Aided Co-operative Society Limited, in 2007 and today, 10,986 indigenous tribal farmers from 516 villages take decisions about their livelihoods and Araku Coffee. "A Central Processing Unit (CPU) was set up to standardise the quality of the coffee being produced," says Kumar. The valley's contrasting temperature—hot in the day and cool at night, coupled with its naturally iron-rich soil, makes Araku a perfect terroir to produce coffee that is intense, has aromatic richness and is mild to taste.
In 2008, a social enterprise named Araku Originals Private Limited was set up to market this uniquely grown and flavoured coffee. "The global food crisis encouraged us to link small farmers with global markets.
Niche coffee roasters from Japan, South Korea, Ireland, Switzerland, France flew down to buy Araku coffee at the highest price," he says. But then the good people at this Adivasi-produced coffee co-operative decided to the more audacious step of introducing their coffees to Paris. Araku runs a café and a store in the city's fashionable Le Marais neighbourhood, besides selling their coffees through luxury grocery store, La Grande Epicerie.
Although Araku tribals make variants from six different terroirs (defined by the same factors that define wines, such as the soil quality and climate), in India they offer four—Signature (grown in selected villages, this balanced coffee has notes of spice and chocolate); Selection (full-bodied, it comes from selected parcels of land); Grande Reserve (medium roasted with complex notes of berry, spices, caramel, vanilla, even leather); and my personal favourite, Micro Climate (from an isolated part of the valley where you find more spiders and coffee beans than people, it is rich and very smooth).
The coffee beans—grown in the valley's protected ecosystem, using organic bio-dynamic methods implemented by expert David Hogg, and roasted to perfection by roaster-brew Andrew Delgado from Honduras—has been successful in lassoing serious coffee aficionados.
The Flying Squirrel's Artisan Coffee
This coffee brand, with 140 acres of organic plantations in picturesque Coorg, was born out of the need of its co-founder to drink a cup of great coffee every single day. Ashish D'Abreo, the former Creative Director of advertising firm, Origami, teamed up with college mate Tej Thammaiah, a third-generation coffee farmer with estates in Polibetta, to conduct R&D on the estate, which has resulted in nine to 12 variants.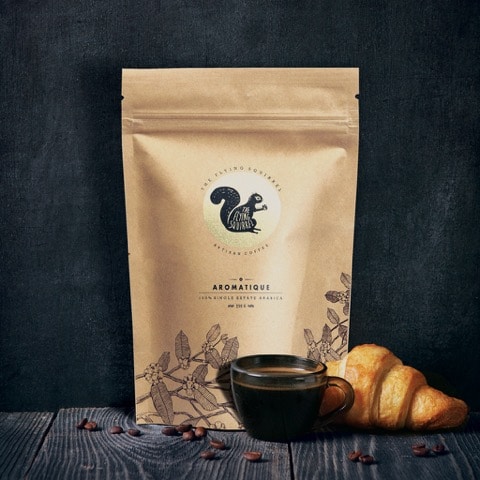 Aromatique, The Flying Squirrel
"We experimented with inter-cropping by growing the coffee in between citrus and spice plantations. Some of the coffee is even grown within heavily forested patches in the estate or in the shade of banana plantations," says D'Abreo. "Coffee is highly sensitive to the environment in which it is grown. The flavours and notes you taste in final cup depends on the altitude it is grown at, the water and soil quality, and what crops are grown in its neighbourhood."
The Flying Squirrel team has worked on creating flavour profiles using varied processing methods. "In the natural processing method the beans are dried out in mellow Coorg sunlight and then pounded to achieve full-bodied, robust flavours, with hints of bitterness from the tannins. The other extreme is wash processing, in which ripened cherries are bashed up to a pulp to achieve coffee with minute flavour nuances. We have also launched honey sundried or pulp sundried coffee in which we wash the beans off all the pulp and then dry it out naturally, giving it a nuanced flavour," says D'Abreo.
Their most expensive coffee, at Rs 650 for 250gms, is The Clouds in My Coffee, a gorgeous Monsoon Malabar variant. The Flying Squirrel beans are packed in shipping containers and sent off to coastal villages near Mangalore, where, for the next 45 to 60 days, they absorb sea moisture to create a mellow flavour profile.
"We prefer roasting it ourselves, based on what our customers want," D'Abreo reveals. While he doesn't believe that India will suddenly wake up to the pleasures of ground coffee with interesting flavour profiles, the segment will have enough takers to make Indian gourmet coffees a force to reckon with.
But there are challenges. "The logistics costs are huge in India. It is expensive to ship coffee and most customers do not want to pay for shipping, so we have to absorb the cost. But gourmet coffees occupy 10 to 15 % of the market, which is growing year-on-year, and that is a significant number."
Experiments in Flavours and Roasts
Indian gourmet coffee industry's courageous adventures have yielded several interesting results. Fifth-generation Indian coffee planters, Advith and Abhijit Shetty, teamed up with Italian roaster, Dante Calgari, to create interesting Italian roasts. The Shetty brothers' family plantations in Chikmaglur serve as their experiment base. "You can either spend a lifetime learning the art of growing and roasting coffee, or learn from a lifetime of someone's expertise; we chose the latter," says Advith.
Bonhomia pioneered the gourmet coffee capsule segment in India with their signature coffee blends in six flavours and varying intensities, ranging from organic to darker full-bodied blends. While their blend Ristretto has the highest intensity level of eight, the mild Organic Bliss has an intensity of four. The brand has initiated a 'Farm-to-Cup' programme by tying up with big ticket coffee producing estates in the country to source their beans.
At the other end of the spectrum are the newbie coffee roasters Kaffa Cerrado run by Delhi-based Dalmia sibling trio of certified roasters, Krittivas, Rasalika and Saudamini. They export coffee beans—from popular coffee growing countries such as Brazil, Colombia and Brazil to offbeat ones such as Peru and Panama—and then roast them into single origin coffees with interesting flavour blends.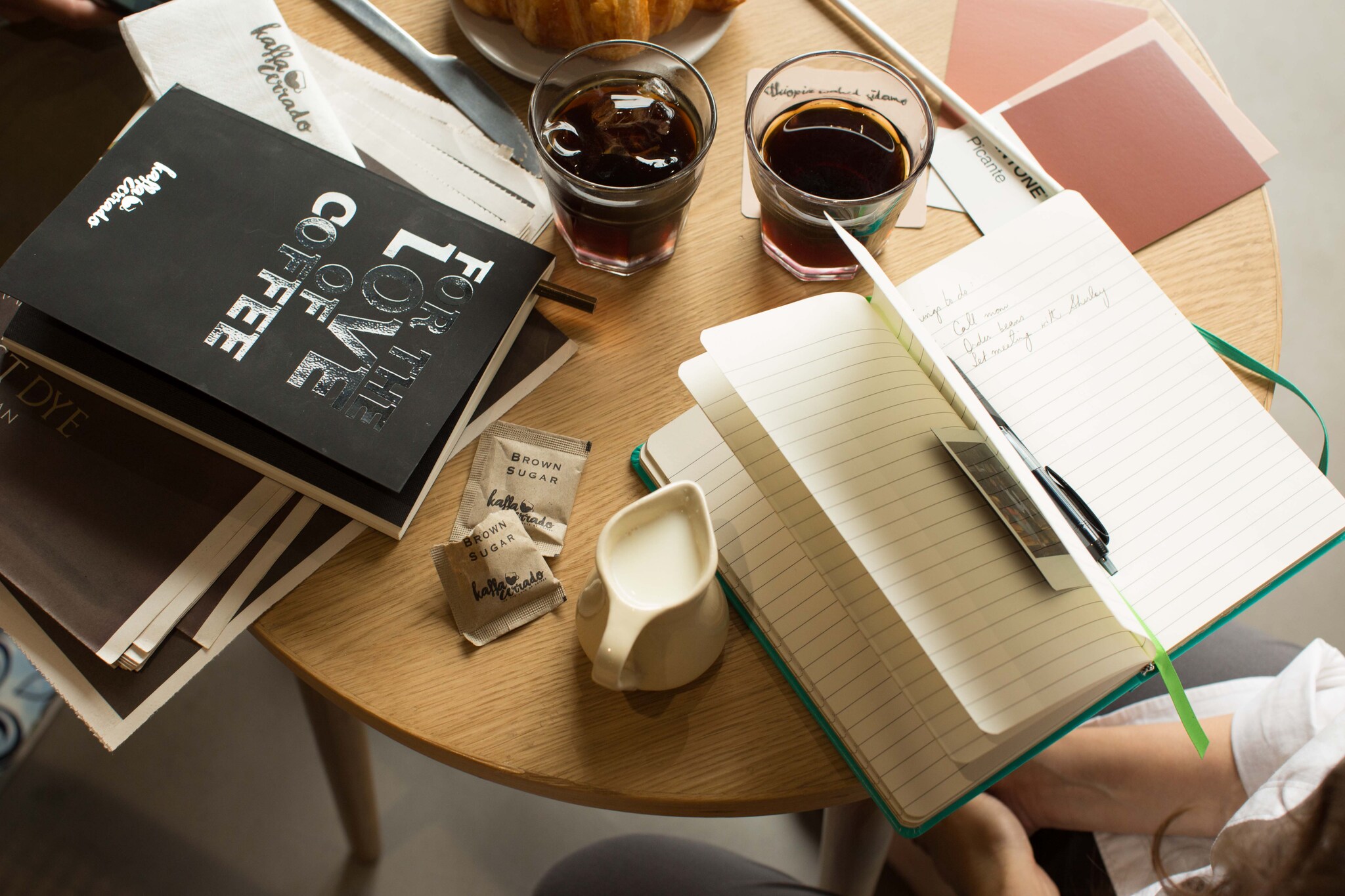 Kaffa Cerrado
Krittivas, who had fond memories of single-origin coffees he drank as a student of finance in New York, decided to set up the coffee venture when he returned home after not being able to land a banking job. "My dad wanted to establish a coffee business 20 years ago and even met some Italian roasters, but could not get too far with it. We met those roasters again and began exporting their coffee," he says.
However, the amount of time it took for the shipped coffee to reach India and the delays at the customs transformed the flavour profile drastically. "We then tried to get someone else to roast the beans for us, but there was no consistency. So now we roast it ourselves. We take orders online, or offline, from individuals and restaurants we supply to, and roast according to preference."
Roasting clearly is a fine art. Coffee's subtle notes depend on the terroirs. While African coffee tends to be more acidic and needs to be roasted to bring out that acidity, South American coffee is far nuttier in flavour. Indian coffees from Coorg and Chikmagalur tend to be sweeter. "We believe in roasting in small batches since coffee has a definite shelf life of maximum six months. We believe it should be consumed much earlier," says the soft-spoken Kritivvas.
The trio just set up a café attached to their roasterie in Delhi. Araku Coffee's Manoj Kumar believes that the only way to reach a larger audience is through experiential cafés. The Flying Squirrel also has a café in Bangalore and hopes to open a few more. The market may be niche and largely upscale, but coffee plantation owners and roasters are intent on spreading the magic of roasted and ground coffee, not drowned in milk and sugar, to a larger audience. Credit